15/02/2021
Interview with Andrea Jádi Németh - BBJ Top Legal Executives
"I have always seen lawyers as professionals who connect the dots in their communities. We create bridges through our knowledge and skills and resolve tensions and disputes through our function as interstitial figures."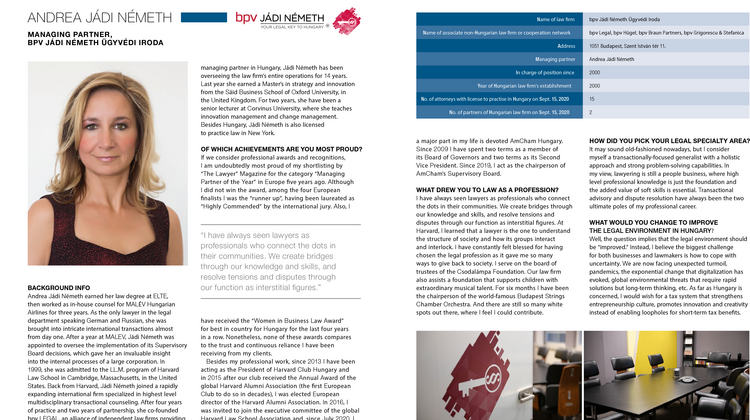 BACKGROUND
Andrea Jádi Németh earned her law degree at ELTE, then worked as in-house counsel for MALÉV Hungarian Airlines for three years. As the only lawyer in the legal department speaking German and Russian, she was brought into intricate international transactions almost from day one. After a year at MALÉV, Jádi Németh was appointed to oversee the implementation of its Supervisory Board decisions, which gave her an invaluable insight into the internal processes of a large corporation. In 1999, she was admitted to the LL.M. program of Harvard Law School in Cambridge, Massachusetts, in the United states. Back from Harvard, Jádi Németh joined a rapidly expanding international firm specialized in highest level multidisciplinary transactional counseling. After four years of practice and two years of partnership, she co-founded bpv LEGAL, an alliance of independent law firm providing premium legal services from key locations in CEE. As the managing partner in Hungary, Jádi Németh has been overseeing the law firm's entire operations for 14 years. Last year she earned a Master's in strategy and innovation from the Säid Business School of Oxford University, in the United Kingdom. For two years, she has been a senior lecturer at Corvinus University. where she teaches innovation management and change management. Besides Hungary, Jádi Németh is also licensed to practice law in New York.
OF WHICH ACHIEVEMENTS ARE YOU MOST PROUD?
If we consider professional awards and recognition, I am undoubtedly most proud of my shortlisting by "The Lawyer" Magazine for the category "Managing Partner of the Year" in Europe five years ago. Although I did not win the award, among the four European finalists I was the "runner up", having been laureated as "Highly Commended" by the international jury. Also, I have received the Women in Business Law Award" for the best in country for Hungary for the last four years in a row. Nonetheless, none of these awards compares to the trust and continuous reliance I have been receiving from my clients.
Besides my professional work, since 2013 I have been acting as the President of Harvard Club Hungary and in 2015 after our Club received) the Annual Award of the global Harvard Alumni Association (the first European Club to do so in decades), I was elected European director of the Harvard Alumni Association. In 2016 I was invited to join the Executive Committee of the global Harvard Law School Association. In 2016, I was invited to join the executive committee of the global Harvard Law School Association and, since July 2020, I am a member of its senior advisory council. In addition, a major part in my life is devoted AmCham Hungary. Since 2009 I have spent two terms as a member of its Board of Governors and two terms as its Second Vice President. Since 2019 I act as the Chairperson of AmCham's Supervisory Board.
WHAT DREW YOU TO LAW AS A PROFESSION?
I have always seen lawyers as professionals who connect the dots in their communities. We create bridges through our knowledge and skills and resolve tensions and disputes through our function as interstitial figures. At Harvard I heard that a lawyer is the one to understand the structure of society and how its groups interact and interlock. I have constantly felt blessed for having chosen the legal profession as it gave me so many ways to give back to the society. I serve on the board of trustees of the Csodalámpa Foundation. Our law firm also assists a foundation that supports children with extraordinary musical talent. For six months I have been the chairperson of the world-famous Budapest Strings Chamber Orchestra. And there are still so many white spots out there, where I feel I could contribute.
HOW DID YOU PICK YOUR LEGAL SPECIALTY AREA?
It may sound old-fashioned nowadays, but I consider myself a transactionally focused generalist with a holistic approach and strong problem-solving capabilities. In my view, lawyering is still a people business, where high level professional knowledge is just the foundation and the added value of soft skills is essential. Transactional advisory and dispute resolution have always been the two ultimate poles of my professional career.
WHAT WOULD YOU CHANGE TO IMPROVE THE LEGAL ENVIRONMENT IN HUNGARY?
Well, the question implies that the legal environment should be 'improved'. Instead, I believe the biggest challenge for both businesses and lawmakers are how to cope with uncertainty. We are now facing unexpected turmoil, pandemics, the exponential change that digitalization has evoked, global environmental threats that require rapid solutions but long-term thinking, etc. As far as Hungary is concerned, I would wish for a tax system that strengthens entrepreneurship culture, promotes innovation and creativity instead of enabling loopholes for short-term tax benefits.