01/02/2021
New Partners at bpv JÁDI NÉMETH Attorneys at Law
Three senior attorneys have been promoted to partner in the dynamic and well-educated international team of premium legal service provider bpv Jádi Németh Attorneys at Law from 1 February 2021.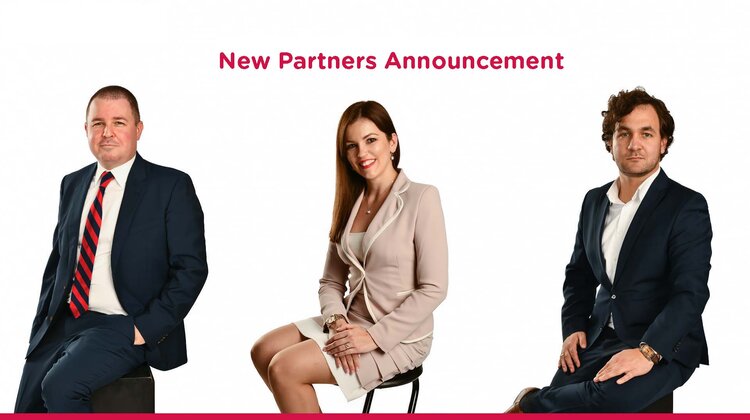 bpv JÁDI NÉMETH Attorneys at Law hereby announces the promotion to partnership of attorneys at law Dr. Balázs Kovács, Dr. Anna Buzás and Dr. Gábor Márky.
Dr. Balázs Kovács, Dr. Anna Buzás and Dr. Gábor Márky are experienced attorneys who have longstanding cooperation with bpv JÁDI NÉMETH Attorneys at Law. The promotion of the three excellent colleagues to partner is a recognition of their efforts and work.
Balázs has extensive experience in advising domestic and foreign clients on transactional and regulatory issues primarily in the field of real estate, competition, corporate and commercial law. Besides supporting retail companies in real estate development and lease matters he also advised various clients in litigations related to damage claims and warranty issues and represented them in public administration procedures.
Anna has extensive corporate, acquisition and civil law experience from a wide range of industry segments and extensive experience in advising local and international clients primarily on employment, dispute resolution matters and commercial affairs. Before joining our office, Anna gained experience in international law firms, primarily in the field of civil and commercial law. She also worked as Legal Consultant at Deloitte Hungary.
Anna advises and assists domestic and multinational companies on labor law and competition law. In addition, she is a trusted advisor in corporate M&A transactions, and regularly provides legal representation in court litigation proceedings.
Gábor graduated summa cum laude at University of Pécs - Faculty of Law in 2014. Subsequent to having obtained his law degree, he gained professional expertise in recognized international law firms both as trainee and senior lawyer. Gábor participated in high profile international corporate M&A transactions and competition-related court proceedings, and provided continuous, day-to-day legal advisory to key market players of the automotive, aviation and FMCG sector.
Dr. Andrea Jádi Németh, Managing Partner of bpv JÁDI NÉMETH Attorneys at Law cited the thoughts of Steve Jobs in relation to the recent promotions: "Think about the type of people you want to work with. Think about the types of customers you would enjoy serving. Think about the friends you want to have. Hardworking people want to work with hardworking people. Kind people like to associate with kind people. Exceptional employees want to work for exceptional bosses." Be the best you can be, and work to surround yourself with people who are even better."
With the appointment of the new partners, the number of partners at bpv JÁDI NÉMETH Attorneys at Law increased to 5.